Indiana is an attractive market for real estate investors from abroad. Thanks to its strong economy, favorable property tax policies, and steady population growth, the state offers many investment opportunities for diversifying and growing portfolios.
Nicknamed the "Hoosier State," Indiana has a diverse range of housing markets, offering something for everyone. In the major cities of Indianapolis and Fort Wayne, investors can find luxury homes in thriving neighborhoods and family homes close to quality schools and parks. Those looking to invest in rural areas will also find beautiful properties with plenty of potential for price appreciation and cash flow.
Whether you're looking for single-family rental property, condos, or short-term rentals, Indiana has plenty of options. With knowledge, expertise, and a good lending partner by your side, investing in Indiana real estate could be an excellent investment.
What Makes Indiana Good For Real Estate Investing?
Simply put, Indiana is a great state for real estate investors looking for value.
Home prices in Indiana are much lower than the national median, making it easier to buy single-family homes at an affordable price. The rental market in Indiana is strong and consistent due to the growing population and job opportunities throughout the state.
Additionally, the homeownership rate in Indiana has dropped over the past decade, with more people opting to rent than own. This helps create a stable market for owners who want to rent out their property or sell it later on down the line. Property taxes in Indiana are also lower than the national average, making it easier for investors to budget and plan their investments accordingly.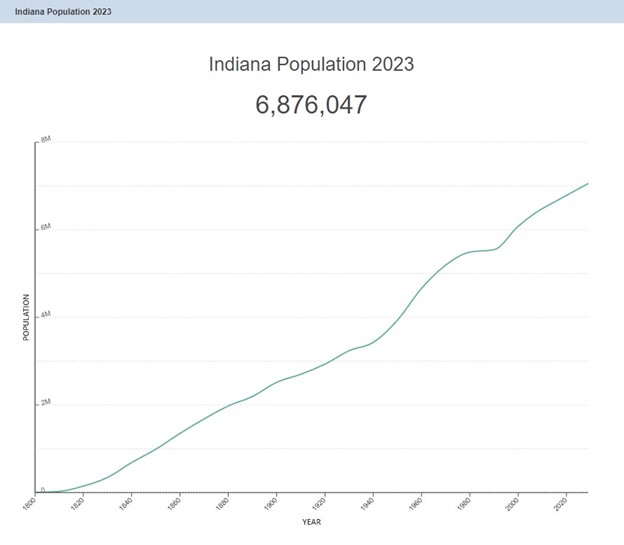 Population Growth
According to the U.S. Census Bureau, Indiana is home to more than 6.8 million, adding over 19,500 new residents over the past year alone.
The cost of living in Indiana is the 11th lowest in the nation, making the state an attractive option for those relocating from high-cost urban areas.
The most populous counties in Indiana are Marion (Indianapolis), Lake (near Chicago), Allen (Fort Wayne), and Hamilton (Carmel and Fishers).
Of the 2.9 million homes in the state, 29% are renter occupied, based on the most recent statistics from Census Reporter.
The median age in Indiana is 38.2, about the same as in the U.S.

Job Market
According to the St. Louis Fed, Indiana's GDP is nearly $413 billion, growing by about 42% over the past ten years.
The employed population in the state is 3.09 million, increasing by 0.5% year over year and driving unemployment down to 3.1% (BLS December 2022).
The median household income in Indiana is $62,743, while per capita income is $33,054.
Job sectors showing the most robust growth include mining and logging, financial activities, construction, and trade and transportation (including retail).
Key industries in Indiana are Advanced manufacturing, aerospace and aviation, agriculture bioscience, defense, life sciences, logistics and transportation, and technology.
The largest Indiana public companies (by revenue) are Elevance Health, Eli Lilly, Cummins, Steel Dynamics, Cortiva Agriscience, Berry Global Group, and Thor Industries, according to the most recent ranking by the Indianapolis Business Journal.
Niche.com ranks the University of Notre Dame, Purdue University, Rose-Hulman Institute of Technology, Indiana University-Bloomington, and Wabash College as the 5 best colleges in Indiana.
Nearly 91% of the residents are high school graduates or higher, while 29% hold a bachelor's or an advanced degree.
Indiana lies between America's steel belt and agricultural heartland, providing easy access to major highways and rail lines.
The state has a global reach by air thanks to the Great Lakes, Ohio-Mississippi river system, major airports, and the world's second-largest FedEx hub.
Indiana Real Estate Market Stats & Trends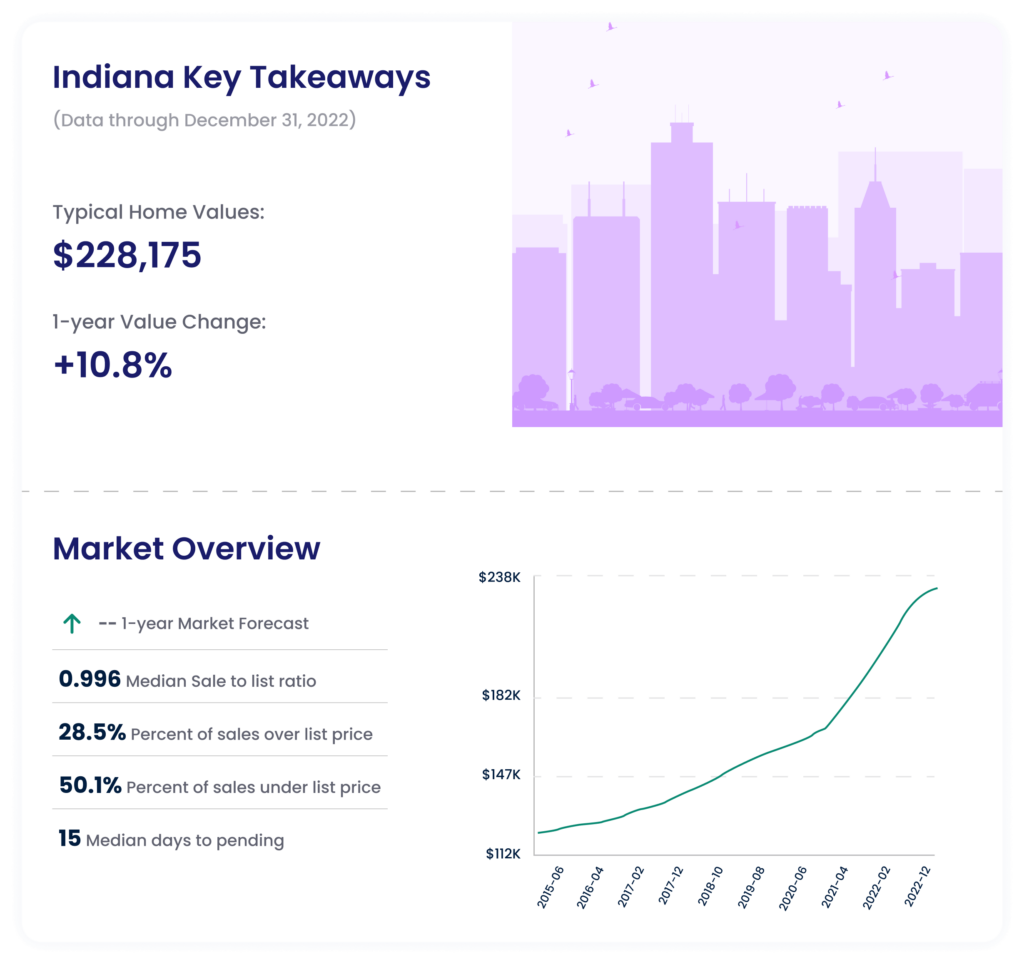 Indiana is becoming an increasingly popular destination for homebuyers, with Realtor.com ranking Jefferson County in the southern part of the state among the top 10 of their 2023 housing markets. But it's not just limited to Southern Indiana – homes from all over the state are seeing high demand due to their affordable prices, with most going under contract within two weeks of being listed for sale. Here are the most recent Indiana housing market statistics, according to Zillow (December 31, 2022):
The typical home value is $228,175.
Increase of 10.8% year over year.
Home values in Indiana have increased by 85% over the past eight years.
The median sale-to-list price ratio is 0.996, meaning that Indiana homes sell for approximately the asking price.
Homes go under contract 15 days (median) after being listed for sale.
Where To Find Investment Properties in Indiana
Indiana is great for investment properties with its diverse housing markets and relatively affordable living costs. With an array of city settings, from industrial hubs to rural towns, there are ample opportunities for foreign real estate investors looking to purchase or develop investment properties throughout the Hoosier State.
Here are five housing markets in Indiana that investors may wish to consider. Population statistics for each metropolitan area are from Data USA, home values are from Zillow (December 2022), and median rents for 3-bedroom homes are from Zumper (February 2023).
Indianapolis (metro area)
The Indianapolis metropolitan area is Indiana's cultural and economic heart, boasting a bustling city center with a growing population. As the state's capital city, the Indianapolis real estate market's vibrant urban landscape offers an eclectic mix of shopping, dining, entertainment, and plentiful employment opportunities. With its central Midwest location between two major cities: Michigan and Ohio—Indy is ideal for investors looking for real estate in the U.S.
Population: 2,050,000
Change in the population (since 2020): 1.1%
Home value: $230,696
Change in home values (5-year): 76.8%
Median rent: $1,475
Rent change (year over year): 1%
Fort Wayne
Fort Wayne is a city in northeastern Indiana, is the county seat of Allen County, and is home to many corporations such as Steel Dynamics, Lincoln Financial Group, and Do it Best Corp. The city has become one of the leading cities in Indiana for its high-tech jobs and attractive cost of living.
Population: 409,400
Change in the population (since 2020): 0.8%
Home value: $206,864
Change in home values (5-year): 65.3%
Median rent: $1,100
Rent change (year over year): -8%
Evansville
Evansville is a mid-sized city located on the banks of the Ohio River. The city offers a strong economy, quality housing and education, good job opportunities, affordable cost of living, and excellent recreational options.
Population: 315,200
Change in the population (since 2020): 0.07%
Home value: $182,149
Change in home values (5-year): 51.3%
Median rent: $1,098
Rent change (year over year): 0%
Carmel
Carmel, an affluent city in Hamilton County, Indiana, is a great location for investing in real estate. The city has seen significant population growth in recent years due to its quality of life, low crime rate, and high-performing schools.
Population: 99,100
Change in the population (since 2020): 1.7%
Home value: $527,275
Change in home values (5-year): 52%
Median rent: $2,447
Rent change (year over year): 27%
Fishers
Fishers, Indiana, is an attractive suburb of Indianapolis in the northeast of the state. It has seen significant growth over the years and continues to attract young professionals and families looking for a safe and comfortable place to live. Additionally, Fishers' proximity to Indianapolis means it is only a short drive away from amenities such as shopping centers, entertainment options, airports, and more.
Population: 93,500
Change in the population (since 2020): 3.5%
Home value: $412,149
Change in home values (5-year): 54.9%
Median rent: $1,860
Rent change (year over year): 3%
10 More Indiana Real Estate Markets To Consider
Foreign real estate investors interested in purchasing property in Indiana have no shortage of quality housing markets to consider. Many areas have attractive home values, affordable rents, robust job markets, and vibrant cultures. Here are 10 more cities to consider:
South Bend
Bloomington
Hammond
Noblesville
Lafayette
Greenwood
Gary
Kokomo
Muncie
Southport
Evaluating Indiana Real Estate Investments
Indiana offers foreign real estate investors an excellent opportunity to enter the market and build solid financial returns. From rural farmland to downtown high-rises, there are plenty of investment prospects to choose from in Indiana.
To get the most out of your investments, it's important to do your due diligence and assemble a good team, including an experienced local real estate agent, property manager, lender, attorney, accountant, and other professionals. With proper research, planning, and strategy, investors can increase their odds of success in Indiana's real estate market.