It is no surprise that real estate in Texas is an attractive option for investors across the globe. Not only does the Lone Star state boast an economy that is almost as large as Canada's, but its diverse landscape makes it easy to find investment properties in almost any area.
Whether you are looking to invest in a residential rental property or a second residence, there are numerous benefits of investing in Texas real estate. This blog post will provide an overview of all things related to buying or investing here. From home prices to the rental market and growth potentials, our market overview breaks down everything you need to know before jumping into this housing market.
Why Do Real Estate Investors Like Texas?
Texas is an attractive market for foreign real estate investors due to its diverse economy and low taxes. The state boasts a large population and a rapidly growing job market, making it a prime choice for real estate investment opportunities with cash flow from rental income. The state's no-income tax structure provides further rewards for property owners.
The economic climate in Texas has been booming over recent years, creating tremendous opportunities for real estate investments. Many large cities in the state with strong job markets – such as Austin, Dallas/Fort Worth and Houston – offer great potential for buying income-producing properties. Furthermore, there are several developing suburban areas outside these urban centers with property values that may offer great potential for residential investments.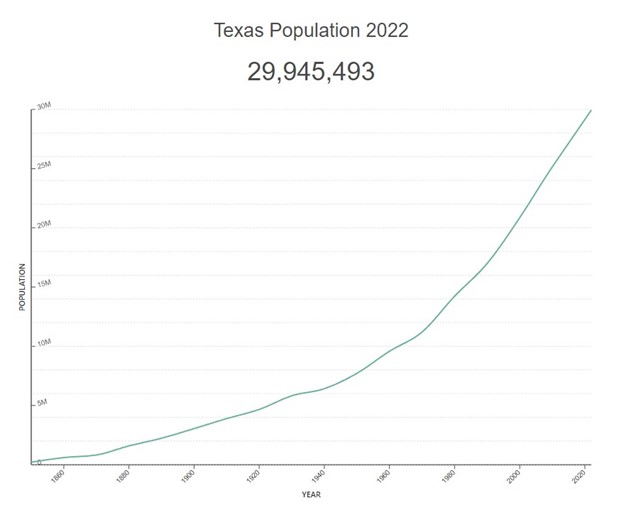 Source: https://worldpopulationreview.com/states/texas-population
Population Growth
Population of Texas is over 29 million, according to the S. Census Bureau, and home to more people than the entire continent of Australia.
Over the past ten years, the population of the State of Texas grew by about 16% (April 2010 vs. April 2020), more than twice as fast as the US.
39% of the housing units in the state are renter-occupied, based on data from Census Reporter.
The people in Texas are about 10% younger than the US overall, with a median age of 35.5 years.
Over 85% of the residents are high school graduates or higher, and more than 33% hold a bachelor's degree or an advanced degree.
Per capita income is $34,717, and median household income is $66,963.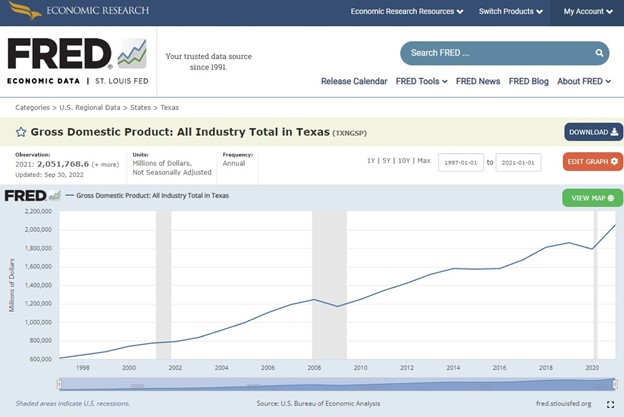 Job Market
GDP of Texas is over $2 trillion, according to economic data from the St. Louis Fed.
The state's gross domestic product increased by nearly 53% over the past ten years
Employment in Texas is over 14 million and has grown by 3.1% year over year, as reported by the S. Bureau of Labor Statistics (November 2022).
Unemployment in the State of Texas is 4.0%, with the poverty rate declining by nearly 3.5% over the past year.
Top industry sectors in Texas are advanced manufacturing; aerospace, aviation, and defense; biotechnology and life sciences; corporate services, energy, and information technology.
Texas is home to eight Tier 1 National Research Universities, including The University of Texas at Austin, Texas A&M University, Texas Tech University, and the University of Houston.
Texas Real Estate Market Stats & Trends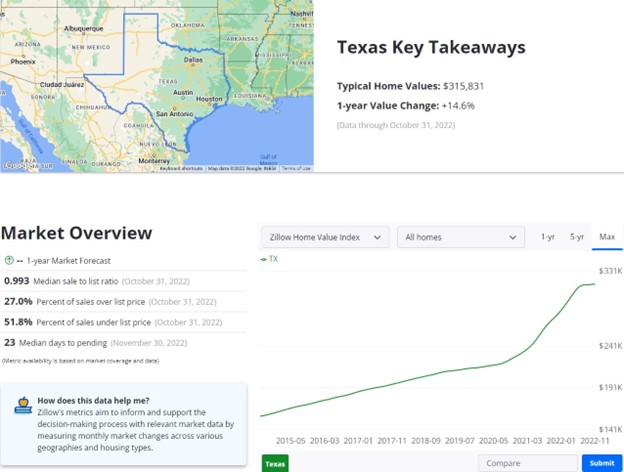 The value of a typical home in Texas increased by 14.6% over the past year, according to the most recent data from Zillow (October 31, 2022). The National Association of Realtors (NAR) predicts that Texas will be home to the third-hottest real estate market in 2023.
Typical home value is $315,831.
Increase of 14.6% year over year.
Home values in Texas have doubled since August 2014.
Median sale-to-list price ratio is 0.993, which means homes are selling for slightly less than the list price.
Median days to go from listing to pending (meaning that the home goes under contract and is taken off of the market) is 23.
Where To Look for Investment and Rental Property in Texas
Texas is the second-largest state by area and population and is also home to 4 of the top 15 real estate markets with the best homebuilding prospects, according to the Emerging Trends in Real Estate 2023 report from PwC and the Urban Land Institute (ULI).
For the current year's report, ULI and PwC researchers conducted 617 personal interviews as well as gathered survey responses from more than 1,450 people comprising real estate developers and owners, asset managers, advisors, and private-equity investors.
Here are the top four real estate markets in Texas that foreign investors may wish to consider. Population data for each metropolitan area is from Data USA, home value trends are from Zillow (October 2022), and median rents for 3-bedroom homes are from Zumper (December 2022).
Dallas/Fort Worth
Dallas/Fort Worth is the fourth-largest metropolitan area in the United States, spanning 11 counties in North Texas. Nicknamed the "Metroplex," the area is anchored by the cities of Dallas and Fort Worth. The region features a strong job market, with tech giants such as Amazon and Apple have made their homes in the area.
Population: 7,450,000
Change in the population (since 2020): 1.79%
Dallas
Home value: $325,975
Change in home values (5-year): 69.6%
Median rent: $2,409
Rent change (year over year): 3%
Fort Worth
Home value: $325,174
Change in home values (5-year): 71.9%
Median rent: $1,995
Rent change (year over year): 3%
Houston
Houston is the largest city in the state of Texas and the fourth most populous city in the United States. Houston is a multicultural metropolis located on the Gulf Coast of Texas with a thriving economy, diverse population, and vibrant cultural offerings. With its mild climate and reputation for hospitality, Houston attracts visitors from all over the world. It is often touted as one of America's best cities for business and recreation alike.
Population: 6,980,000
Change in the population (since 2020): 1.39%
Home value: $273,576
Change in home values (5-year): 53.9%
Median rent: $1,925
Rent change (year over year): 1%
San Antonio
San Antonio is a vibrant city located in the south-central region of Texas and home to a population of over 2.5 million. The metro area is home to several Fortune 500 companies and numerous other businesses, making it one of the most economically diverse and prosperous cities in America.
Population: 2,510,000
Change in the population (since 2020): 1.7%
Home value: $299,182
Change in home values (5-year): 58.2%
Median rent: $1,745
Rent change (year over year): 3%
Austin
Austin, Texas, is known for its vibrant city life, unique culture, and tech-centric business community. Located in the heart of Central Texas, it boasts a booming economy with many big tech companies like Apple, Google, Dell, Oracle, Amazon, and Tesla's global headquarters located here.
Population: 2,170,000
Change in the population (since 2020): 2.81%
Home value: $625,705
Change in home values (5-year): 79.1%
Median rent: $2,480
Rent change (year over year): 7%
Other real estate markets in Texas
Covering an area of over 261,232 square miles (676,587 km2), Texas is home to over 960 cities and towns. Here are ten other places in the Lone Star state to consider investing in real estate, ranked by population:
El Paso
Corpus Christi
Lubbock
Laredo
Garland
Frisco
McKinney
Amarillo
Grand Prairie
Brownsville
Is Texas the Right State for You?
If you're looking at investing in Texas real estate, then this market overview has given you some excellent insights into what the current landscape looks like. Whether you're interested in rental properties or second residences, there are great opportunities for returns on investment all across the state.
Keep in mind the factors that we discussed when considering any property purchase, review your investment strategy, and remember to consult with a real estate agent and lending professional if you have any questions along the way. With careful planning and due diligence, purchasing real estate in Texas can be an excellent way to diversify an investment portfolio.