Investing in Georgia real estate can be an excellent opportunity for those looking to get a return on their investment and build wealth. Nicknamed the "Peach State," the market for rental property has been steadily increasing, making it an attractive option for property investors.
The state is known as one of the most business-friendly in the U.S., offering incentives like low taxes and an educated labor force. Additionally, there are many areas of the state with good appreciation potential where you could find excellent deals.
Whether you're looking for short-term rental (STR) investments or long-term opportunities, it's important to understand the risks and rewards associated with investing in the housing market. We'll cover everything you need to know about evaluating properties and understanding market dynamics to make an informed decision when investing in Georgia real estate in 2023.
What Makes Georgia a Real Estate Hotspot?
Georgia is home to some of the best real estate markets in the nation, with plenty of attractive home-buying opportunities that have caught the eye of investors. What makes it such an attractive choice for investment? Various factors contribute to its appeal, from population growth to job market outlooks, tax incentives, and high demand for housing.
The population growth in Georgia has been impressive in recent years—the state ranks 4th for the largest population increase since 2010. This growing population above the national average means more people need housing, making the rental market an ideal investment opportunity for those seeking to capitalize on property development or rental investments.
In addition, the economy here is booming—it was rated 2nd best business climate in 2022 by Site Selection magazine and has a low unemployment rate at 3.0% as of November 2022 (BLS). Job growth creates further demand for housing and commercial real estate, making it an even more attractive option for investors looking to benefit from rental income or capital expansion.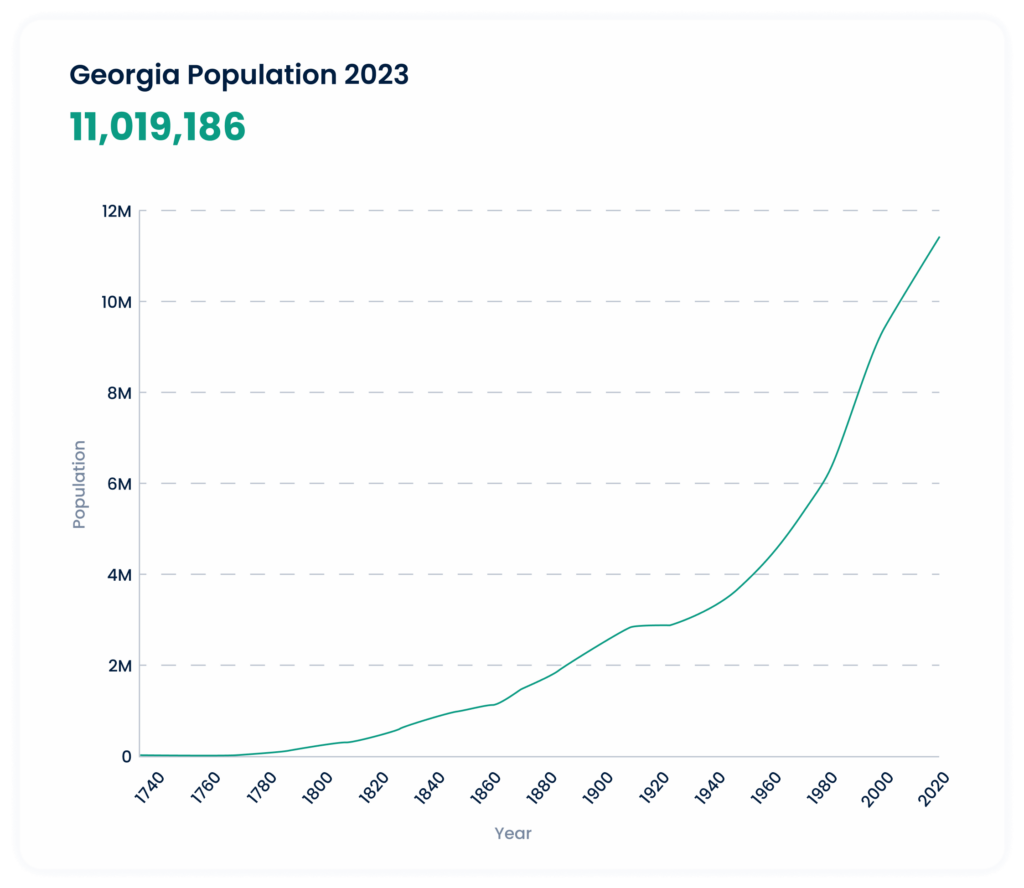 Population Growth
The population of Georgia grew by 10.5% between 2010 and 2020, about 50% faster than the entire U.S.
The state of Georgia is home to over 10.9 million, adding nearly 125,000 new residents over the last year alone (July 2022 vs. July 2021).
The median age is 37.5, a little less than the figure in the U.S.
According to Census Reporter, there are nearly 4.5 million housing units in Georgia, with 34% occupied by renters.
Median household income is $52,607 and has increased by 3.6% over the past year, based on the most recent information from Data USA.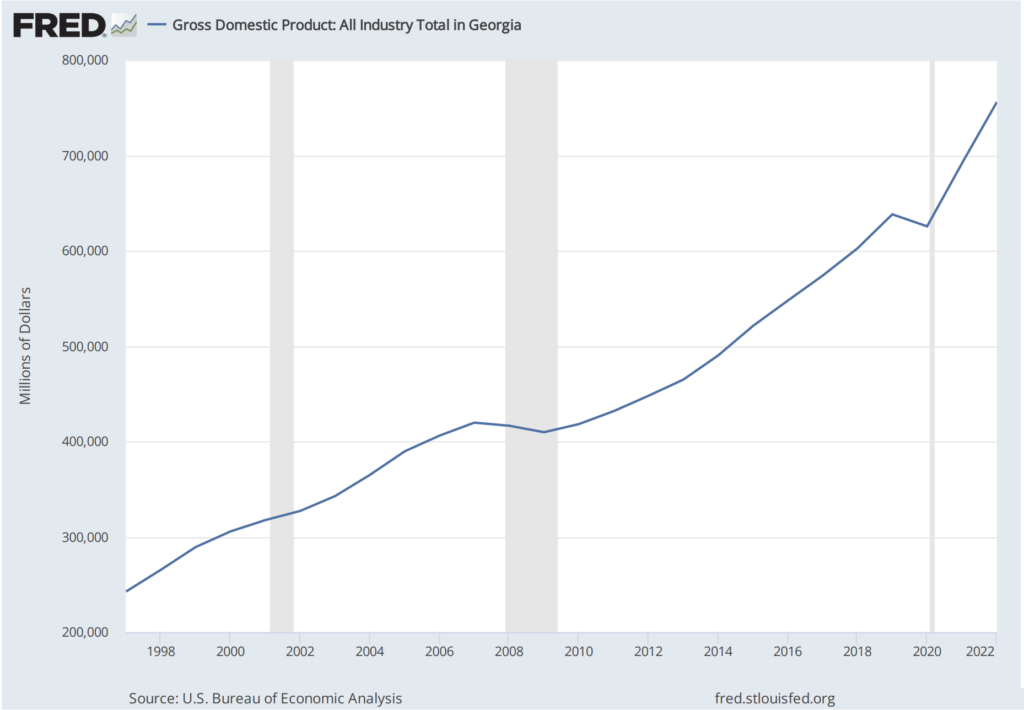 Job Market
According to the St. Louis Fed, Georgia's GDP has grown by more than 60% since 2011 and is now over $691.6 billion.
The unemployment rate in Georgia is 3.0% (November 2022), the lowest rate since 2012.
Employment sectors in the state showing the most robust growth include information, professional and business services, financial activities, and leisure and hospitality.
The five largest employers in Georgia (both public and private) are Walmart, Kroger, United Parcel Service, Publix Super Markets, and the State of Georgia government.
Advanced manufacturing, automotive, aerospace, and food processing accounted for about 75% of new jobs and 84% of investments, according to the Office of the Governor.
WalletHub lists Atlanta and Augusta among the best metro areas for STEM professionals in 2023.
Emory University, Georgia Institute of Technology, University of Georgia, and Mercer University are ranked as the best colleges in the state by U.S. News.
Nearly 35% of the residents have a bachelor's degree or higher, while 89% are high school graduates or higher.
Georgia offers a comprehensive transportation infrastructure, providing direct connections to business partners and customers via the most extensive rail system in the Southeast, the world's busiest airport, and the nation's fastest-growing port.
Georgia Real Estate Market Stats & Trends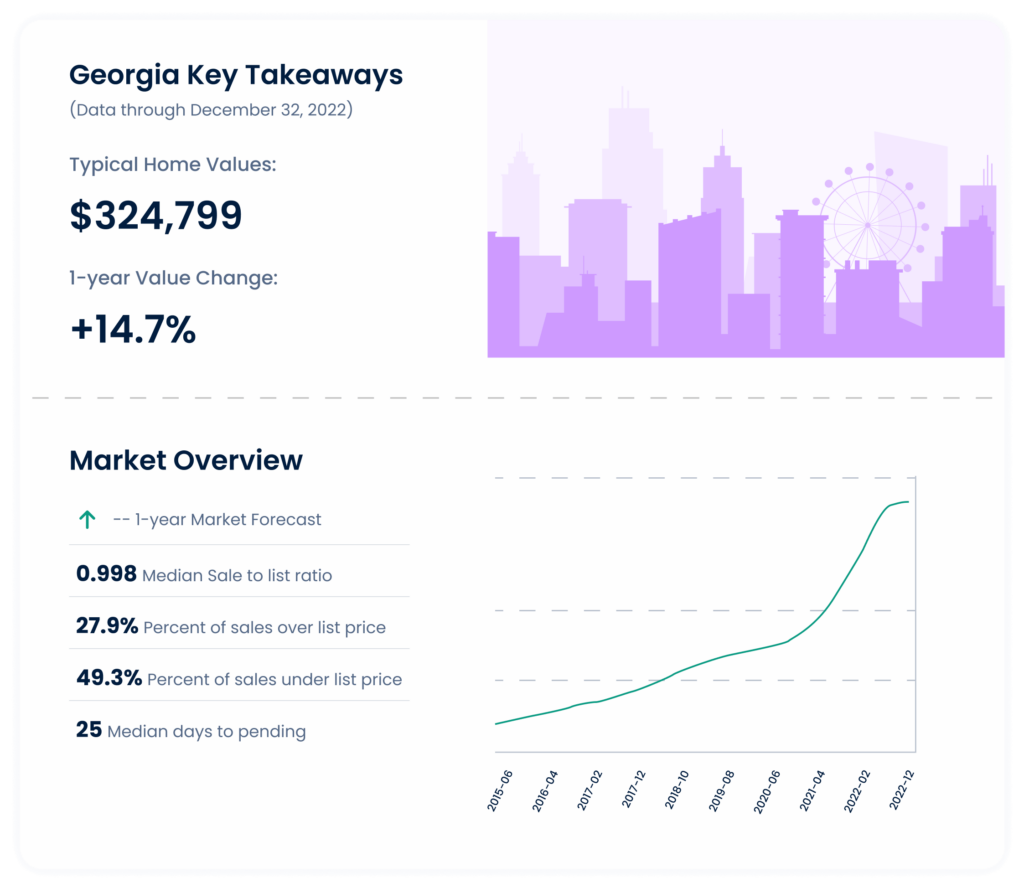 The value of a typical home in Georgia increased by 14.7% over the past year, according to the most recent data from Zillow (December 31, 2022). However, Redfin reports that some housing markets in the state have seen home prices increase by 30% or more yearly.
The typical home value is $324,799.
Increase of 14.7% year over year.
Georgia home values have more than doubled since September 2014.
The median sale-to-list price ratio is 0.998, meaning homes sell for approximately the asking price.
Homes go under contract 25 days (median) after being listed for sale.
Finding Investment Property in Georgia
Given the recent surge in home values and population gains, investing in Georgia real estate offers the potential for tremendous growth. According to the National Association of Realtors (NAR), Atlanta has been named the top housing market with the most growth potential through 2023.
However, Atlanta isn't the only place to look for investment opportunities. Augusta, Savannah, Athens, and Sandy Springs are other cities where investors could capitalize on rising property values and high rental income. The following population statistics for each metropolitan area are sourced from Data USA, while home value trends are from Zillow (December 2022), and median rents for 3-bedroom homes are from Zumper (January 2023).
Atlanta (metro area)
Atlanta has been dubbed the "New York of the South," topping the charts as NAR's top market to watch in 2023. This is due to its overall affordability compared to other cities, rapid population growth, and strong job market bolstered by major West Coast companies such as Apple, Microsoft, and Visa relocating here.
Population: 5,950,000
Change in the population (since 2020): 1.4%
Home value: $404,263
Change in home values (5-year): 54.8%
Median rent: $2,245
Rent change (year over year): -2%
Augusta
Located in the heart of Georgia, Augusta is a vibrant city offering low taxes and a cost of living attractive to foreign real estate investors. In addition, the city boasts multiple universities and a booming job market that will likely continue attracting new people in the coming years.
Population: 605,300
Change in the population (since 2020): 0.9%
Home value: $181,927
Change in home values (5-year): 82.5%
Median rent: $1,329
Rent change (year over year): 6%
Savannah
Savannah is an iconic coastal city located in southeastern Georgia. Its strategic location provides access to both the Atlantic Ocean and the Savannah River, making it an ideal place for investing in real estate. With its diverse culture, rich history, and booming economy, the city has become a popular destination for investors looking to capitalize on lower taxes, excellent infrastructure, and ample housing options.
Population: 390,200
Change in the population (since 2020): 1.1%
Home value: $287,041
Change in home values (5-year): 101%
Median rent: $1,900
Rent change (year over year): 15%
Athens
Athens is a bustling college town known for its vibrant art and music scene. Located in the state's center, it is home to the University of Georgia, making it an ideal area for investors looking to purchase property to rent out to university students. With its combination of culture, natural beauty, and economic opportunity, Athens is a great place to live, work, and invest in real estate.
Population: 210,800
Change in the population (since 2020): 1.1%
Home value: $312,376
Change in home values (5-year): 82%
Median rent: $1,935
Rent change (year over year): 17%
Sandy Springs
Sandy Springs is a thriving suburb of Atlanta located just north of the city. Its proximity to downtown and other attractions makes it an attractive real estate market for those looking for easy access to all the city offers. The community also offers ample shopping, dining, and entertainment choices, drawing in locals and tourists alike.
Population: 108,200
Change in the population (since 2020): 1.0%
Home value: $670,373
Change in home values (5-year): 46.2%
Median rent: $3,028
Rent change (year over year): 12%
More Georgia Real Estate Markets
Georgia is a state full of vibrant and diverse real estate markets, from bustling urban centers to rural towns. With its wide range of cities ranging from large to small, there are countless opportunities for investors to explore the various types of housing. Here are 10 more places to consider for investing in Georgia real estate:
Columbus
Macon
Roswell
Johns Creek
Albany
Warner Robins
Alpharetta
Marietta
Valdosta
Dunwoody
Exploring Real Estate Opportunities in Georgia
In conclusion, investing in real estate in Georgia can be a great opportunity. The state has many attractive features, such as its geographic location, growing population, and diverse economic sectors. In addition, the cost of living is fairly low, and there are various options and places for real estate investing.
However, as with any investment decision, it is important to do your research to ensure you are choosing the best investment option for your objectives and goals. Investing in the Georgia housing market can be profitable, but it is important to make the right choices when deciding where to invest.