In the rugged heart of the American West, Colorado unfurls a landscape that is as diverse as it is breathtaking. The state's natural beauty, thriving economy, and high quality of life have made it a magnet not just for nature lovers, adventurers, and aspiring entrepreneurs, but also for savvy real estate investors looking for promising opportunities.
From its bustling urban centers like Denver and Boulder to charming mountain towns such as Aspen and Breckenridge, the state presents countless investment options catering to diverse investor preferences and financing options.
Whether drawn to the steady demand of city apartments or the seasonal allure of mountain cabins, understanding the dynamics of these different markets is key to making informed investment decisions.
Welcome to the world of Colorado investment properties, where the potential for growth is as vast as the Rocky Mountain range itself.
Population and Job Growth
Colorado has seen a consistent rise in its population and job market, making it a hub of economic growth and dynamism. This growth isn't just restricted to a specific sector or region. It's spread across various industries and cities, adding to the overall vibrancy and diversity of the economy.
People are drawn to the state for various reasons – its natural beauty, opportunities for outdoor recreation, and a high quality of life, among others. This influx of new residents, coupled with the robust job market, contributes to a thriving economy that bodes well for various types of investments, including real estate.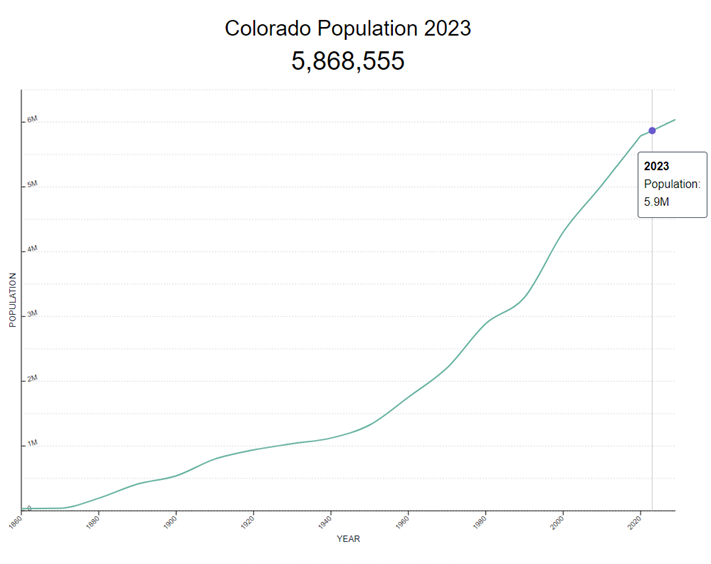 Population
Home to over 5.8 million, the population in the state has soared by 16% since 2010, according to the US Census Bureau.
By 2040, the population is expected to increase to 7.8 million people (a 47% increase) and 5 million jobs (a 51% increase).
Nearly 46% of residents hold a bachelor's degree or an advanced degree, about 1.3 times the rate of the US.
Median age is 37.7, a figure a little less than the country as a whole.
Per capita income is $49,071 and median household income is $89,302, both figures about 20% higher than in the US.

Economy
GDP in Colorado is nearly $484.4 billion, growing by about 75% since 2012.
Unemployment rate is 3.1% (August 2023).
Key industries include advanced manufacturing, aerospace, bioscience, defense and homeland security, energy and natural resources, and technology and information.
The top 10 largest companies are JBS USA, DaVita Kidney Care, TTEC Englewood, ING Security Life Of Denver, Pilgrim's, Skanska Cortez, Qwest, Crop Production Svc Loveland, American Medical Response, and Qurate Retail Englewood.
The states ranks #1 in private aerospace employment concentration, #2 best state to start a business, the 2nd best state of tech and science, and #3 startup early job creation.
Top three universities in Colorado are the University of Colorado Boulder, Colorado State University – Fort Collins, and the University of Denver.
Colorado boasts a comprehensive transportation infrastructure, with highways like I-70 and I-25, Denver International Airport (DEN), mass transit systems, railroads, and an expanding network of bicycle routes.
Largest cities within a one-day drive include Phoenix, Las Vegas, Kansas City, Albuquerque, and Oklahoma City.
Home Price Stats and Trends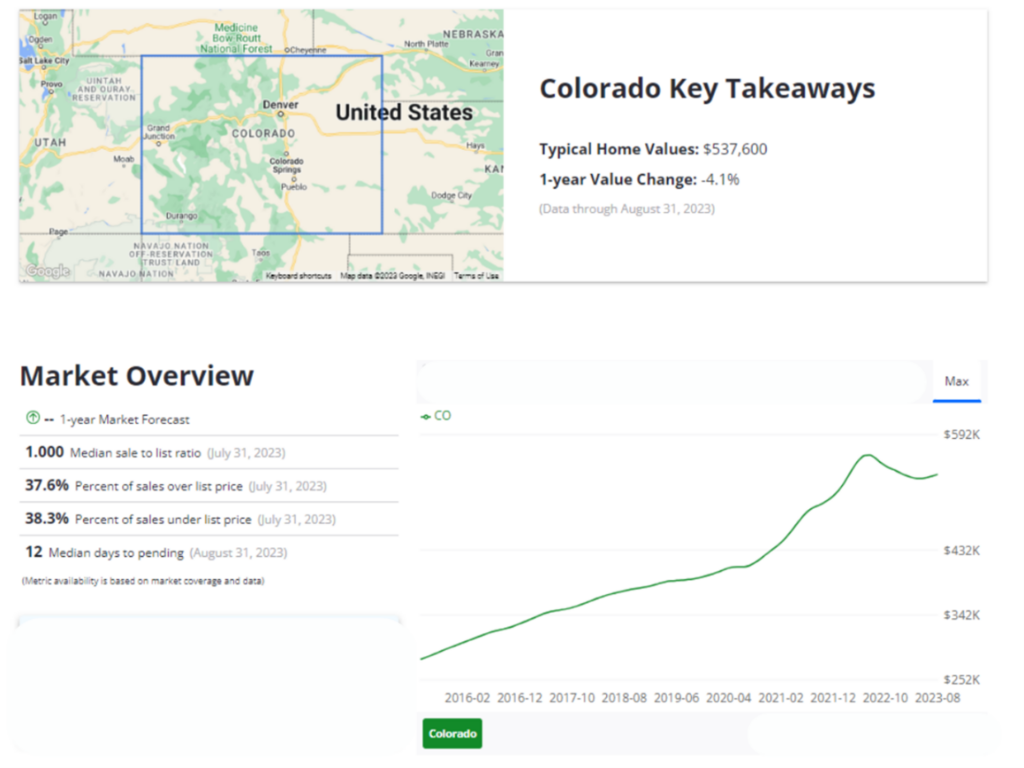 The Colorado housing market presents a dynamic and intriguing landscape for potential investors. Despite a slight dip over the past year, the market forecast suggests an upward trend in the coming year. Properties are selling close to their listing price, with a significant proportion exceeding this figure, underscoring the competitive nature of the market. The speed at which properties move from listed to pending further emphasizes the high demand for housing.
Here are the most recent housing market statistics from Zillow (August 31, 2023):
Typical home value is $537,600.
Increase of -4.1% year over year.
Home values have increased by 42.4% over the past 5 years.
Properties are going from listing to pending in 12 days (median).
The 1-year Zillow Market Forecast predicts home values will continue rising.
Investor's Guide: Exploring Colorado's Booming Rental Real Estate Market
Consider exploring investment opportunities in these five areas for single-family home rentals, small multifamily residences, condos, and Airbnb vacation rental properties. Data USA provides the population statistics, while current home values as of August 2023 come from Zillow. Median rent prices for three-bedroom properties, based on Zumper's data from September 2023, are also included.
Denver
Denver, the capital city of Colorado, is nestled at the base of the Rocky Mountains and serves as a gateway to some of the state's most popular outdoor destinations. Known for its vibrant arts scene, diverse culinary offerings, and rapidly growing tech industry, the metro area has become a magnet for young professionals and families seeking a dynamic urban lifestyle.
Population: 2,930,000
Change in population (since 2020): 1.3%
Home value: $562,400
Change in home values (5-year): 34.2%
Median rent: $2,898
Rent change (year over year): 4.0%
Colorado Springs
Colorado Springs is situated to the south of Denver. The area is known for its breathtaking natural beauty, including the famous Pikes Peak and Garden of the Gods. With a strong military presence and a burgeoning tech sector, the city offers a unique mix of natural allure and economic opportunity.
Population: 471,700
Change in population (since 2020): 1.5%
Home value: $447,343
Change in home values (5-year): 48.2%
Median rent: $2,150
Rent change (year over year): 2.0%
Boulder
Next on our list is Boulder, a city located at the foothills of the Rocky Mountains, renowned for its outdoor recreational activities and commitment to sustainability. Home to the University of Colorado, Boulder is a bustling college town with a thriving tech industry that attracts a blend of students, academics, and professionals.
Population: 324,700
Change in population (since 2020): 0.7%
Home value: $988,341
Change in home values (5-year): 36.2%
Median rent: $3,425
Rent change (year over year): 6.0%
Pueblo
Pueblo, located about 100 miles south of Denver along Interstate 25, is a city steeped in history and culture. Known as the "Steel City" for its long-standing steel production industry, Pueblo is also celebrated for its vibrant arts scene, diverse culinary offerings, and outdoor recreational activities courtesy of its sunny climate.
Population: 111,800
Change in population (since 2020): 0.8%
Home value: $292,936
Change in home values (5-year): 67.6%
Median rent: $1,450
Rent change (year over year): 7.0%
Aspen
Tucked away in the Rocky Mountains, Aspen is world-renowned for its ski resorts and upscale lifestyle. Beyond its reputation as a winter playground for the rich and famous, Aspen also offers a robust calendar of cultural events, including music festivals and art exhibitions, making it a year-round destination.
Population: 7,700
Change in population (since 2020): 3.9%
Home value: $3,218,030
Change in home values (5-year): 68.4%
Median rent: $30,000
Rent change (year over year): 7.0%
Smaller Cities With Cash Flow Opportunities
Smaller cities in Colorado can offer investors unique benefits. Affordable property prices and a lower cost of living may lead to higher yields, while the tight-knit communities often ensure stability and long-term tenancies. For foreign investors, these smaller cities can provide a more accessible entry into the US market and opportunities for diversifying their portfolio.
Here are 17 smaller cities and towns throughout the state to consider owning rental property in:
Aurora
Fort Collins
Colorado City
Greeley
Castle Rock
Grand Junction
Ouray
Englewood
Durango
Montrose
Steamboat Springs
Woodland Park
Estes Park
Breckenridge
Snowmass Village
Telluride
Leadville
Real Estate Investing: The Path to Success in Colorado for Foreign Investors
Colorado has become a beacon for foreign investors due to its booming real estate market, offering both stability and attractive returns. Its diverse range of residential properties appeals to a wide range of investment strategies and renters, making it a preferred destination for global real estate.
However, success in Colorado's vibrant real estate market requires more than just capital. It demands a well-orchestrated collaboration between an investor-friendly real estate agent, an experienced local property manager, and a reliable financing partner.
An adept realtor offers invaluable guidance on the best investment properties in Colorado, leveraging their local knowledge and expertise. A seasoned property manager ensures that the investment is well-maintained and profitable, taking care of the day-to-day management tasks while owners focus on expanding their portfolios.
And of course, the financing aspect cannot be ignored. That's where Lendai comes into the picture.
As a fintech direct lender, Lendai facilitates US financing for foreign investors, helping them navigate the complexities of the US real estate market with ease. Their unique AI algorithms and online platform simplify the financing process, making it swift and efficient.
With the right team, tapping into the potential of Colorado investment properties becomes much more achievable and rewarding.